My Week In Puerto Rico
As I mentioned in my previous post I went to Puerto Rico for a week for my ski break. I had a amazing time (as per usual). My parents are super sweet and they always like taking me out to eat and to places I didn't visit when I lived there. This trip was not the exception even though it was short.
Here are pictures of some of the things I did and of course some of the things I ate while I was there!
Como mencioné en mi publicación anterior, fui a Puerto Rico por una semana durante mis vacaciones de febrero. Pase una semana increíble (como de costumbre). Mis padres son súper dulces y siempre les gusta sacarme a comer y a lugares que no visité cuando vivía allí. Este viaje no fue la excepción con todo y que fue uno corto.
¡Aquí les muestro fotos de algunas de las cosas que hice y comida (por supuesto) que comí mientras estaba allí!
The day I landed, my parents and I went over to my uncle's house. Family and amazing food; it can't get better than that!
El día que aterricé, mis padres y yo fuimos a la casa de mi tío. Familia y comida increíble; ¡No puede ser mejor que eso!
Last time I went to the beach was last summer when I literally just dipped my toes in the Mediterranean Sea in Barcelona. I remember when I used to live in the island I really liked going to the beach. That has changed. I don't know why. However, I had a great time that day. The weather was perfect, my nephew had fun climbing on top of my dad and my mom relax (she was the bag keeper & the photo/video-grapher).
La última vez que fui a la playa fue el verano pasado cuando, literalmente, sumergí los dedos de los pies en el mar Mediterráneo en Barcelona. Recuerdo que cuando vivía en la isla me gustaba mucho ir a la playa. Eso ha cambiado. No se por que. Sin embargo, me lo pasé genial ese día. El clima estuvo perfecto, mi sobrino se divirtió trepándose encima de mi papá y mi mamá se relajó (ella era la encargada de cuidar los bolsos y la foto / video-grafa oficial).
We also went to Farm. The farm is located in Barranquitas .They plant strawberries, kale, lettuce, cilantro and more. It was pretty cool! We ended up buying 2 packs of strawberries (they were delicious!) and coffee (also delicious). My dad was fascinated with their way of planting. He is very into that. After that we went to Coamo and ate there.
También fuimos a una finca ubicada en Barranquitas. Plantan fresas, col rizada, lechuga, cilantro y más. ¡Fue muy bueno! Terminamos comprando 2 paquetes de fresas (¡estaban deliciosas!) Y café (también delicioso). Mi papa estaba fascinado con su forma de plantar. Él está muy interesado en eso. Después de eso fuimos a Coamo y comimos allí.
I took my mom to a meeting one day and I got to spend time in my hometown plaza. I have to say, it was very enjoyable. I was just sitting on bench thinking, looking at the beauty and listening to a guy that was exercising and singing Juan Gabriel for all to hear. It was nice and I had to take some pictures.
Un día llevé a mi madre a una reunión y pude pasar un tiempo en la plaza de mi ciudad natal. Tengo que decir que fue muy agradable. Estaba sentado en el banco pensando, mirando la belleza y escuchando a un tipo que estaba haciendo ejercicio y cantando a Juan Gabriel para que todos lo escuchen. Fue agradable y tuve que tomar algunas fotos.
Ice cream from the center of Ponce is a must for me (even if it's not paleo I just had to!). That day my mom and I went to visit Dona Tita at la "plaza de los perros" and I got a few vinyl records from her. I'm so excited. I cannot wait to have my vinyl player.
El helado del centro de Ponce es una necesidad para mí (incluso si no es paleo, ¡solo tenía que hacerlo!). Ese día mi mamá y yo fuimos a visitar a Dona Tita a la "plaza de los perros" y ahi compre unos cuantos discos de vinilo.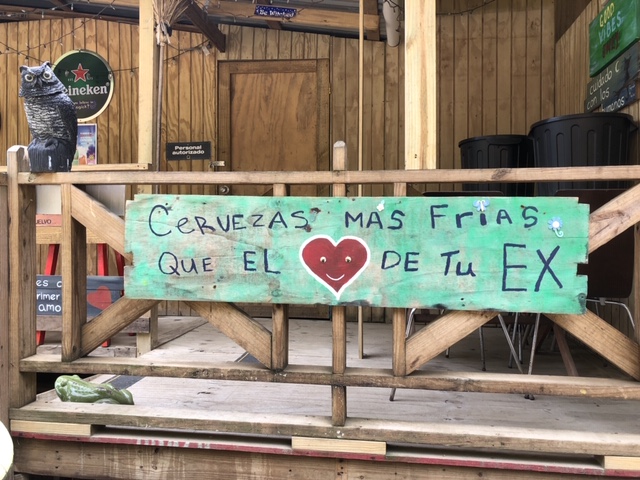 My favorite place to go in this trip was definitely La Bodega de Las Brujas. I just loved the vibe of that "restaurant". And the food was amazing! I'm still thinking about it. My mom even tried to recreate the sancocho. According to her, she did a pretty decent job and was good. I don't know about that. I'll check out hers next time I come visit. Besides the sancocho we got sorullitos and chicken alcapurrias. OMG so good!
La Bodega de Las Brujas fue definitivamente lo que mas me gusto de este viaje. Me encantó el ambiente en ese "restaurante". Y la comida estuvo increíble. Mi mamá incluso intentó recrear el sancocho. Según ella, hizo un trabajo bastante decente y le quedo bueno. Eso veré la próxima vez que vaya a visitarla. Además del sancocho pedimos sorullitos y alcapurrias de pollo. ¡Dios mío, que rico!
The week flew by. It always does when you are having fun right? After all these years it's still really hard for me to say good-bye to my parents. But I am grateful for the amazing week spent with them. I am looking forward to spend my summer vacations with them.
Xoxo
KC
La semana pasó volando. Siempre pas asi cuando te estás divirtiendo ¿verdad? Después de todos estos años, todavía es muy difícil para mí despedirme de mis padres. Pero estoy agradecida por la increíble semana que pasé con ellos. Estoy deseando pasar mis vacaciones de verano con ellos.
Xoxo
KC