What I Learned: Goal Setting & Vision Board Workshop With The Doodlenauts
Last Saturday was a fantastic day! I attended a workshop with two of my best friends. On today's post I'd like to share a little bit about my experience and what I learned from it.
The workshop took place in the Financial District in San Francisco, in a super cool/tall building. The space was pretty neat. There were about 20 people and the energy inside the room felt amazing. It felt like a safe place to share experiences and just be ourselves even though most of us didn't know each other. I have to admit, I am a shy and introverted person by nature. I have a hard time when I am put on the spot, specially around people I don't know. Usually, if I know that I'm going to be put on those kind of situations I avoid them at all costs, sometimes I don't even attend (but that is going to change this year!). Am I the only one? However, what I noticed was that at the beginning, when we first started doing one of the exercises I was overthinking my responses and very self-conscious (I am so glad my friend was there so I started with her to warm up) and then slowly I started feeling more confident and less worry about others and was just thinking about my dreams and spitting them out. Okay, so that first exercise consisted on sharing your dreams (big, small, crazy, etc.) with different partners for one minute. For example: you ask, whats your dream? the other person responds and then asks you: what is your dream? and you go back and forth for one minute and then you change partners. So at the beginning I wasn't just overthinking but I kept repeating the same dreams over and over. It took me three turns to finally get those crazy dreams of mine out and I felt great and comfortable sharing it.
Another exercise we did was one where we had to share our happiest memory with others sitting at the table (four people). One person shared while the other three took notes. But not just notes, through your experience they were taking notes of your values, what they thought was important to you based on the words you used and the way you shared that happy & important memory. The amazing thing was that they were able to pick on some values I have that I did not know about.
What I liked the most about the workshop was that it wasn't just about making the vision board. They went deeper and talked about the importance of having dreams (which I feel like as we age we forget to dream), we reflected on last year; accomplishments and challenges and what did we learn from it. Then we went into this year's goals; for that, they provided a visual of "The Wheel of Life" which was very helpful. It guides you through different areas of your life such as: romance, emotions, finances, physical body, spiritual etc. Before we made our vision boards they provided examples and inputs on how we break those goals down to make them specific and achievable. Important things they mentioned: you have to have clarity, you have to identify where you are at in life and when setting a goal you have to make sure your energy and your desire align.
I am a Virgo AKA a perfectionist, so I did not finish my board there. I had almost all of the pictures and my goals set but I didn't get to glue it, I finished it at home that night. Lets talk about my board, shall we? On my board I was specific about what I want to accomplish this year. I going to travel with my boyfriend and the pictures I chose were from Patagonia and Iceland and I'm to visit more National Parks with him, for this I chose a picture of Glacier National Park (my favorite!). I'm going to Greece and Morocco with my mom and to represent us, I chose a yellow and a pink heart because of our favorite colors. I also included the connections I'm going to make with people through this blog and in "real" life, I am going to dream big, find solutions on how I am going to help our environment, I am going to eat healthy to have a healthy body and mind, I am going to spend time with family and make good financial choices so I don't get stressed out about money, I am going to be confident and I am going to create.
Did you notice I didn't use "I want" and used "I am going"? It's important that you visualize you goals, feel them and manifest it, like it is already happening. We CAN create the life we want.
¡El sábado pasado fue un día fantástico! Asistí a un taller con dos de mis mejores amigos. En la publicación de hoy me gustaría compartir un poco sobre mi experiencia y lo que aprendí.
El taller se llevó a cabo en San Francisco, en un edificio súper alto y cool. Había unas 20 personas y la energía dentro del espacio se sentía increíble. Se sentía como un lugar seguro en el que se podía compartir experiencias y simplemente ser nosotros mismos, aunque la mayoría de nosotros no nos conocíamos de antes. Tengo que admitir que soy una persona tímida e introvertida por naturaleza. Me siento incomoda cuando la atención está en mí, especialmente con personas que no conozco. Generalmente, si sé que voy a ser expuesta a este tipo de situaciones, las evito a toda costa, a veces ni siquiera asisto (¡pero eso va a cambiar este año!). ¿Soy la única? Sin embargo, lo que noté fue que al principio, cuando comenzamos a hacer uno de los ejercicios, estaba pensando demasiado en mis respuestas y muy consiente de mi misma. Luego poco a poco comencé a sentirme más cómoda y menos preocupada de los demás y solo estaba pensando en mis sueños. El ejercicio consistió en compartir tus sueños (grandes, pequeños, locos, etc.) con diferentes compañeros por un minuto. Por ejemplo: preguntas, ¿cuál es tu sueño? La otra persona responde y luego te pregunta: ¿cuál es tu sueño? y lo repites por un minuto hasta que luego cambias de pareja. Al principio no tan solo estaba pensando demasiado, sino que repetía los mismos sueños una y otra vez. Me tomó tres turnos para finalmente expresar mis sueños y me sentirme bien y cómoda compartiéndolos.
Otro ejercicio que hicimos fue uno en el que tuvimos que compartir nuestro recuerdo más feliz con otras personas sentadas en la mesa (cuatro personas). Una persona compartía mientras que las otras tres personas tomaban notas. Pero no solo eran notas, a través de la experiencia, tomaban notas de los valores que notaban, lo que ellos pensaban que era importante para uno basándose en las palabras utilizadas y la forma en que se compartía esa memoria feliz. Lo sorprendente fue que las otras personas pudieron notar algunos valores que yo no veía.
Lo que más me gustó del taller fue que no se trataba solo de hacer el tablero de visualización. Profundizaron y hablaron sobre la importancia de tener sueños (siento que a veces a medida que envejecemos nos olvidamos de soñar), reflexionamos sobre el año pasado; logros y momentos difíciles y qué aprendimos de ello. Luego entramos a las metas de este año; para eso, utilizamos un visual de "La rueda de la vida" que fue muy útil. Muestra diferentes áreas de la vida, tales como: romance, emociones, finanzas, cuerpo físico, espiritual, etc. Antes de hacer nuestras tablas de visualización, los presentadores presentaron ejemplos y aportes sobre cómo desglosar esas metas para hacerlas específicos y alcanzables. Puntos importantes que mencionaron: debes tener claridad, debes identificar dónde te encuentras en la vida y al establecer una meta debes asegurarte de que tu energía y tus deseos estén alineados.
Soy Virgo AKA una perfeccionista, así que no terminé mi tablero allí. Tenía casi todas las fotos y mis objetivos establecidos, pero no me dio tiempo de pegarlo, lo terminé en casa esa noche. Hablemos de mi tablero, ¿sí? En mi tablero fui específica sobre lo que quiero lograr este año. Voy a viajar con mi novio y las fotos que elegí fueron de Patagonia e Islandia y voy a visitar más Parques Nacionales con él, para esto elegí una foto del Parque Nacional Glacier (¡mi favorito!). Voy a ir a Grecia y Marruecos con mi mama y para representarnos elegí un corazón amarillo y uno rosa por nuestros colores favoritos. También incluí las conexiones que voy a hacer con la gente a través de este blog y en la vida "real", voy a soñar a lo grande, encontrar una solución sobre cómo voy a ayudar a nuestro medio ambiente, voy a comer sano para tener un cuerpo y una mente saludables, pasaré tiempo con mi familia y tomaré buenas decisiones financieras para no estresarme con el dinero, me sentiré segura de mi misma y crearé.
¿Te diste cuenta de que no usé "yo quiero" y use "voy a"? Es importante que visualices tus metas y las manifiestes, como si ya estuvieran sucediendo. ¡PODEMOS crear la vida que queremos!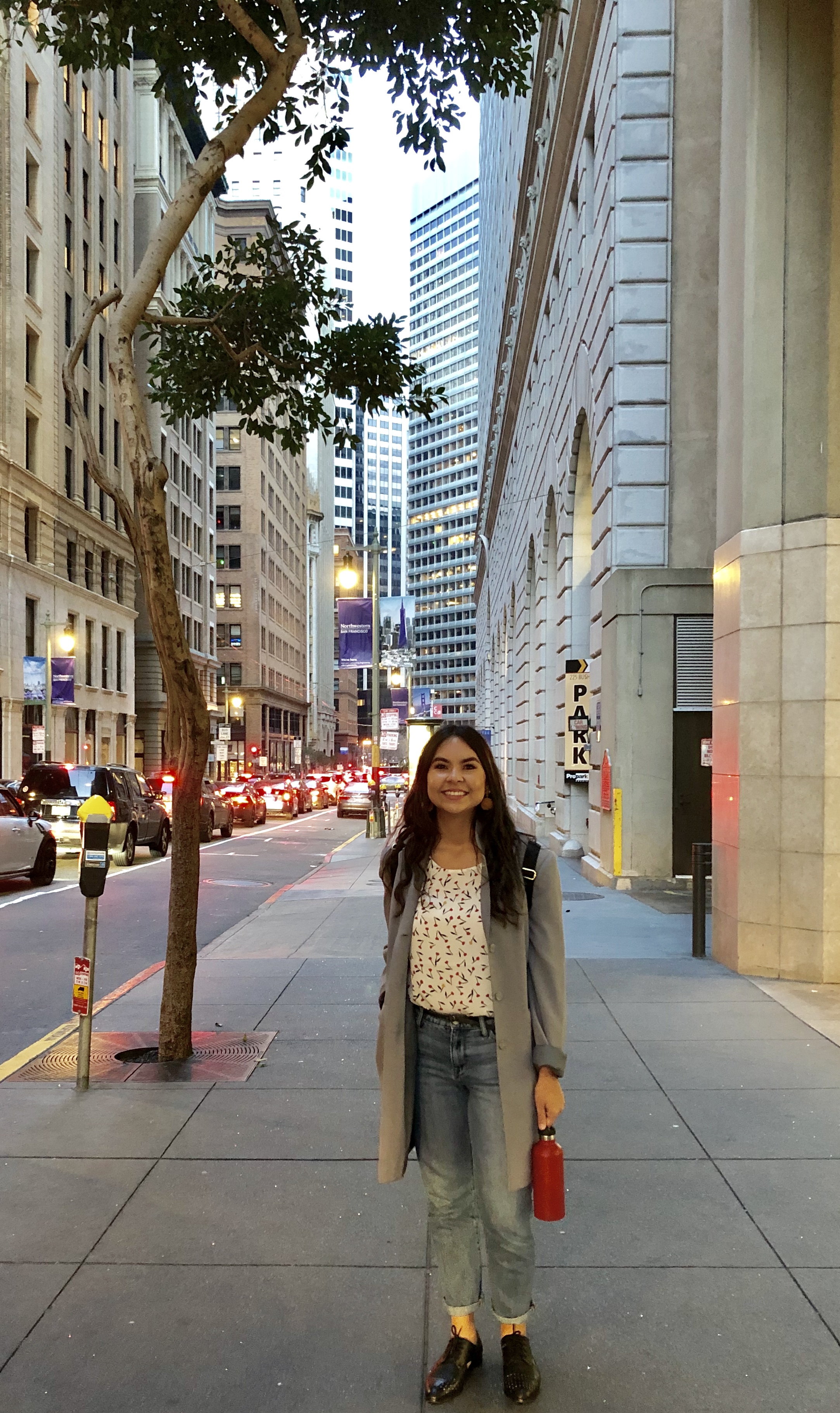 And after that amazing workshop we went to eat in Frutilandia a Cuban and Puerto Rican comfort food restaurant. It was BOMB! I had empanadillas, yuca and mofongo. I was in heaven. My friends had arroz con gandules & lechon. It was the best way to end such an inspiring and beautiful day.
Y después de ese increíble taller, fuimos a comer a Frutilandia, un restaurante de comida típica cubana y puertorriqueña. ¡Estuvo riquísimo! Comí empanadillas, yuca y mofongo. Yo estaba en la gloria. Mis amigos comieron arroz con gandules y lechón. Fue la mejor manera de terminar un día tan inspirador.
If they offer the workshop next year I will definitely attend again. The hosts were phenomenal! Let me know what's your take on vision boards and if you set goals for the new year. I am curious to know!
Xoxo
KC
Si ofrecen el taller el año que viene definitivamente volveré a asistir. ¡Los presentadores estuvieron fenomenales!
Déjame saber cuál es tu opinión sobre los tableros de visualización y si te propusiste metas para el año nuevo. Y ¿Cuáles son? Me encantaría saber.
Xoxo
KC